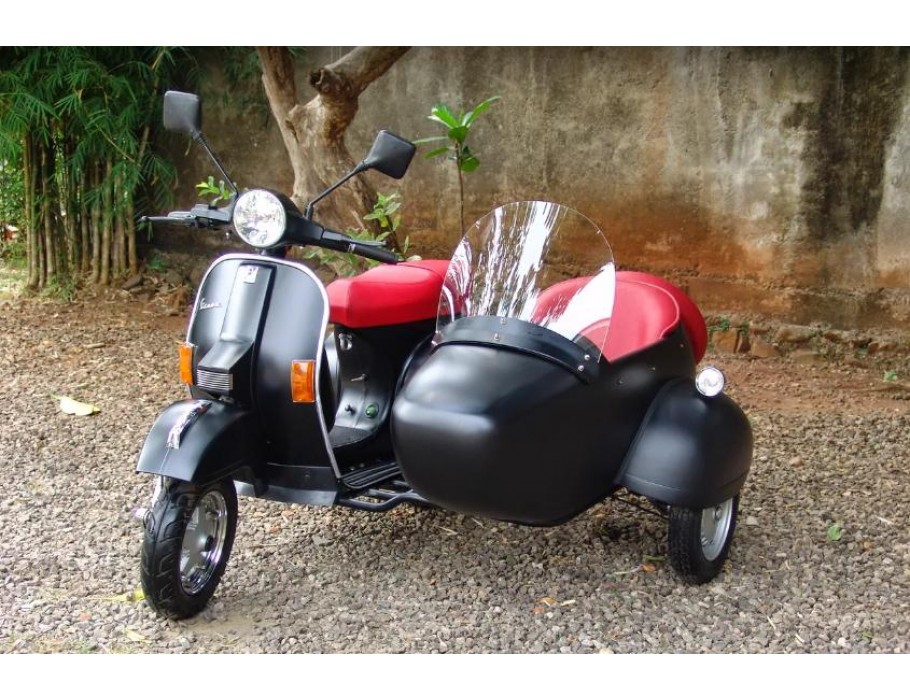 View More On:
VESPA DESCRIPTION
This Vespa is fully restoration. Rebuild engine with brand new parts.

The body is rust free, straight body, has been stripped down sanded to bare metal and repainted in Black doff color. It can run up to 55mph without sidecar, and below 40 mph (safety recommended) with passenger on sidecar. Manual hand twists 4-speed transmission. 150 cc two-stroke engine. Gasoline mixed with 2% oil.
SIDECAR DESCRIPTION
The sidecar is made from ¾ inch tubular seamless pipe framework and with fiberglass that won't rust and light. It is suitable for an adult weighing not more than 170lbs. The features on the sidecar are as following:

• Nicely Carpeted Interior
• Comfy Custom handmade Seat, can be tilted forward for extra storage (helmet)
• New tire, tube, 10 inch wheel
• New Kayaba Shock absorber and Spring
• Rain Cover
Notice:
The sidecar can be detached from the scooter. To remove it, you must replace the center bolt engine mounting, remove the sidecar framework and center stand, with the original vespa center bolt engine mounting. We will give you on our package for free already included spare spark plug, oil bottle mixer, tool kits and center bolt engine mounting.
Fully restored

Buyer will be responsible for shipping. I would love to help for crating, handling and shipping. Shipping would cost you approximately around $700 - $770 plus professional crating US$120 to your nearest port or your nearest state warehouse. It would be taking about 4 until 6 weeks for shipping to USA and Canada. The buyer will have to pay approximately $140 to $190 for associated arrival fees when you pick it up at your preferred port/warehouse for arrival. Please email me for shipping price detail or crating sample pictures (www.scooter99.com)!

50% of total payment must be made 6 working days after the auction ends (non refundable). Within that time we will send you quotation for shipping and photos of crating via e-mail. Scooter will be delivered as soon as we received the 50%. After full payment has been received, we will express mail original Bill of Lading, for custom clearance, and Title Book, for registration. You will have to settle the rest of the payment after the original Bill of Lading is ready. Therefore there is still time for the transfer to go through and to express mail the original Bill of Lading and Title Book.
Bank Transfer payment only.
Before you bid please kindly read understand the description and committed to finish the transaction.
If you have any question, please don't hesitate to email me.
New Body Parts:

• New handmade seat saddle

• All floor list and rubber
• Hand and Lever grips
• Head and rear lights with bulb
• Horn
• Center stand and pedal
• Speedometer
• Chrome Gas tank cap
• Rear switch brake
• Tubes, tires and rims 10 inch
• Keys
• Switch lamp
• Bolt and nuts
New Engine Parts:

• Piston and ring

• PS Cylinder block for better performance
• Cylinder head
• PS De lorto Carburetor
• Air Filter
• Air hose
• Conrod on original Crankshaft
• 12v Magnet
• Bearings and Seals
• Clutch Plate
• Ignition Coils Set
• Exhaust
• Sparkplug
• Gasket
No rebuilt or reused parts
New Parts:

• Brake pads (front and rear)

• Drum brake (rear)
• Diskbrake (front)
• Kayaba front and rear Shock breaker
• Spring (front and rear)
• 10 inch rims (front and rear)
• Clutch Cable
• Accelerate cable
• Gears Cable
• Brake Cable (front rear)
• Choke cable
• Electric Lamp Wires
New Accessories:

• Hook, underneath front
• Vespa 150cc and Piaggio Badge
• Gas tank Cap
• Cylinder head cover
• Galvanize carburetor head cover
• Galvanize flywheel magnet cover
• Kayaba Shock breaker (front and rear)
• Spring (front and rear)
• Rear brake cover
Chassis

Frame Type

Pressed steel monocoque

Engine

Type

Single cylinder, two-stroke

Cylinder Capacity

151cc

Bore x Stroke

2.32" x 2.28" (58 mm x 57 mm)

Max. Power at Shaft (kW at rpm)

6.6 (9 bhp) at 5,700

Max Torque(Nm at rpm)

11.9 at 4,000

Fuel Tank Capacity

Unleaded minimum 91 octane / 2.1 gallons (8 litres)

Fuel Supply

Oil-petrol mixture through carburetor with 2% oil two stroke

Distribution

Rotary valve induction

Cooling System

Forced air

Ignition

Electronic CDI

Starter

Electric and kick starter

Gears

Manual, four-speed

Clutch

Oil wet clutch

Max. Speed

56 mph (90 kmph)

Weight and Dimensions

Length

71.3" (1,810 mm)

Width

29.1" (740 mm)

Wheelbase

49.6" (1,260 mm)

Seat Height

31.9" (810 mm)

Dry Weight

213 lbs (97 kg)

Wheels and Tires

Front Tire

Tube type 3.5, 10"

Rear Tire

Tube type 3.5, 10"

Suspensions and Brakes

Front Suspension

Oscillating arm with helicoidal spring and hydraulic double effect single damper

Rear Suspension

Engine works as oscillating arm, double effect damper

Front Brake

Hydraulic with ø 7.87" (200 mm) stainless steel disc

Rear Brake







ø 5.9" (150 mm) drum, mechanically commanded
VESPA Italian Scooter PX 150cc with Sidecar